I spent Friday scrappin'. It felt so good to get back into it. I really like how these turned out. I used my new Jukebox from Lesley, & Wow what a difference that little machine makes! Thanks again friend! These are all of Christmas 05 and 06 which are combined and intermixed somewhat because I am a non-chronological scrapping dork and I got then mixed up!
This first one is of Hunter and his "shaving kit"
Shelby's coveted Heeley's which she only got to use for 2 months before breaking her arm after falling! The Santa is from Christmas Cheer and I ran his beard throught the Cuttlebug. The lettering is PS.
Tammy wearing Dad's new jersey. Banner is from Christmas Cheer
Simply LO useing stickers as part of the words. This is kinda fun to do, reminds me of some of those stories in school. Makes for a fun look too!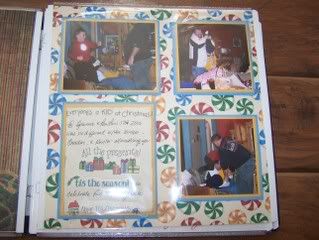 This is a simple LO but it is Shawn's favorite of the bunch. I used Christmas Solutions and OA for the lettering. The GRAND was a play on all 4 of my parents' grandkids in the pict. I used my clear glitter pen over the lettering to bling them up a bit and I traced some of the lines in the paper to make them pop a bit. Simple is a simple does and sometimes that is the best.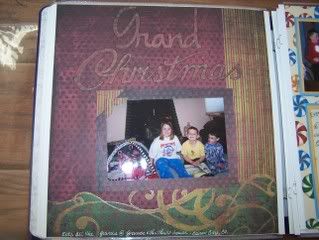 Collage of picts & I used a CM quilt template that I have had for quite some time.
Silly picts...
CM template again...
Mom's bling. Lettering is from OA and the ornament and trees are from Christmas Solutions. Trees were ran through the CB and inked.
This was the first for the day and my least favorite. You can kinda tell I was rusty, but oh well. Tree is from CS!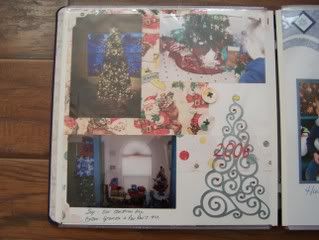 Thanks for looking...now get scrappin!