HAPPY NEW YEAR TO ALL MY FAMILY AND FRIENDS AND ANYONE WHO HAPPENS UPON MY BLOG! I HOPE YOU PROSPER IN THE NEW YEAR AND ALL YOUR HOPES AND DREAMS COME TRUE! The kids and Shawn and I rang in the New Year last night with Shirley Temples and by watching a couple of total crazy goofballs jump structures in Las Vegas. Thank God they are both ok! Shawn and Hunter thought it was really cool. Shelby was pissed that she couldn't keep watching the Dog the Bounty Hunter marathon. Boy aren't we full of culture!
Here are the last two LO's I did in 2008. This first one is of Hunter's first Santa visit. I used StoryBook for the font and Chritstmas Solutions for the moon and Santa. The paper is CM and I blinged it a bit with a glitter pen.
This one is of Rylee in 'O6. I used Fancy Pants felt, and Cats Eye chalks on this one. The font for Sweet is Opposites Attract.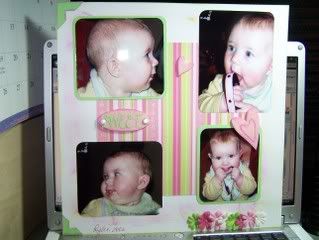 Thanks for looking!