This is a sympathy card I made for a dear friend. His father had just passed away. I used Jasmine for the sentiment on 2 3/4. The stamped image in heat embossed. The flower on the ribbon is also stamped and then cut out.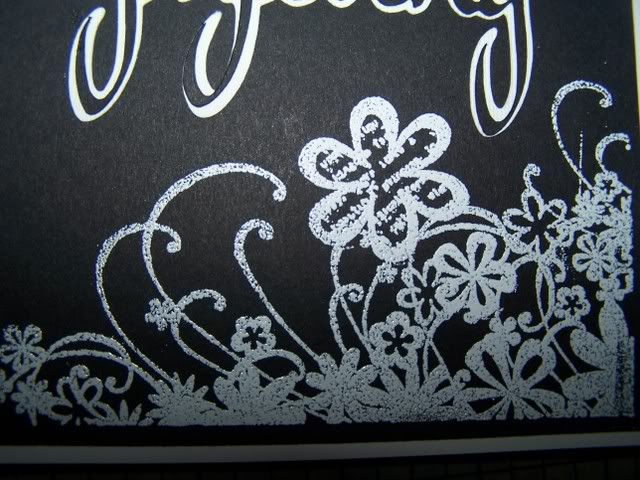 My nail tech (and friend) got married a couple of weeks ago. The only Cricut on the card is the diamond shape that the sentiment is on, but the background is Cuttlebug.
I have been away from my blog for a while now. Not that I wanted to but I have been so busy. Plus my life is pretty boring so...anyway, I took a bit of a break from scrappin and crafting while I prepared for a promotional exam at work. I have completed what I hope will be a first phase for me. I hope to know if I go on to an oral board phase in the next week or so. I am not as worried about this phase. Some people say I can talk! HA!!! We also had an audit at work this week which is a yearly thing, but a busy time nonetheless and if that isn't enough, it was also Correctional Employees Appreciation week. This was my last event as the Employee Council President for my facility, so I really tried to take the lead on the daily events. I will miss the Council but am ready to move on to other "extra curricular" activities. I will be submitting my application to join the CIRT team which stands for Critical Incident Response Team. If I am selected as a member of this team I will respond to incidents in our facilities that fall under the decleration of Critical Incident and for lack of a better way to put it, I will be a peer counselor. I hope this works out for me as I have wanted to do this for a long time.
Since I last posted, Shawn and I have been invited to the CPO Foundation (Correctional Peace Officer), Project 2000, in San Fransico, CA. We will go from June 12-15 to this annual event where correctional professionals who have made the untimate sacrafice are honored and memorialized. This will be my second such event as I was invited two years ago when it was held in St. Louis. We are quite excited.

School is beginning to wind down for the kids. Shelby is still struggeling with her grades and missed out on a field trip yesterday because she didn't have a C in all of her classes. She was disappointed and I hope she will learn from this consequence. She sure is exerting her independence, IE being a pain in the A**!!! For now I am dreaming that she is going through this as an almost 12 year old, so that she won't when she is 16 and 17~don't you dare take this dream away from me! Hee, hee!
Today I will be working on my cards for the Royal Gorge SWARM. I can't post them now since they are a secret but I assure you I will be having fun!