My Mom came up to BV to get her "baby fix" from her grandkids since they all live here now. Between her hugs, the kids' playing and Rylee's nap, she and I had some Mother/Daughter time. We mostly looked at scrap stuff and played with my Cuttlebug. Ok, I played with my Mom's Cuttlebug folders, especially the Swiss Dots one, making a stack about 6" tall of different colored papers that I had ran through CB with her Swiss Dots folder. Mom played with my stamps! We had fun!
I finally got my Pooh Cricut Cartridges this week. I spent a great deal of time playing with them this weekend and had a BLAST! I was helped by Shelby who re-kindled her love of Pooh in doing so. I hope you enjoy looking at them as much as I did putting them together!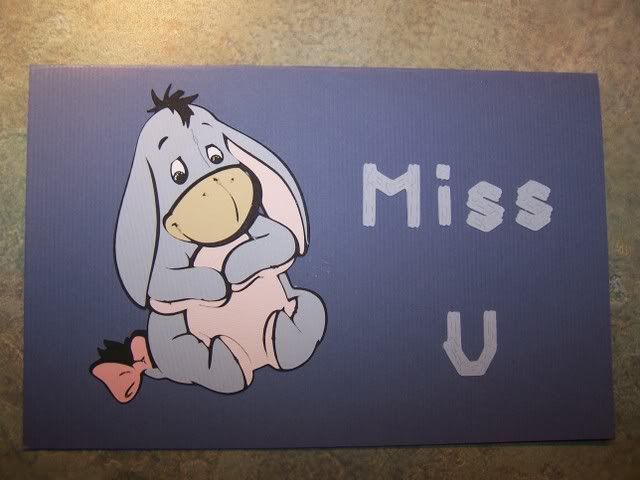 Ok this is the first one I did. This baby Eeyore is from Pooh Font and is done at 3" with the font being the wood feature at 1". I am just tickled how it turned out.
This one of Shelby is our first favorite picture of her. She held on to that Pooh doll like you wouldn't believe. The Pooh is from Pooh Font at 6". I cut his butt off or he would be another 1.5" wide. The frame is from Pooh and Friends at 4".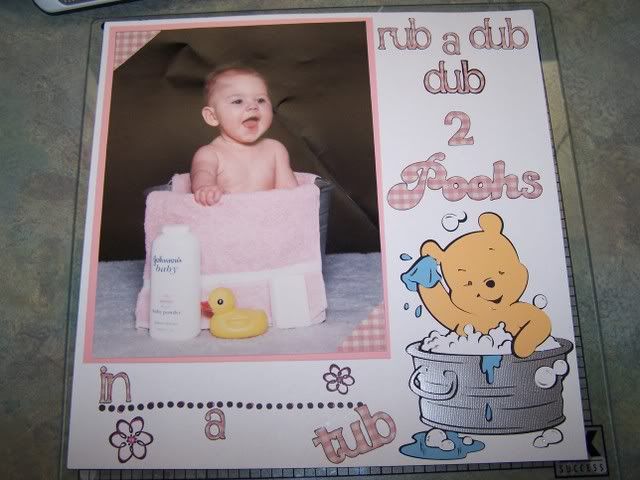 Here is Shelby at about 6 months. This Pooh is on the Pooh font cartridge at 6". He is too cute, was too much fun to make and was too, too perfect for this picture. I knew there was a reason it took me 11 years to scrap it!
This one is Pooh and Friends with Pooh at 5" the grass is at 3" and 5" with the flowers being at 3" and Stickles placed in the middle.

That's all for now!. I am going to work some on my Columbine Memorial pages. With today being the 9 year anniversary of this horrific event, I find peace in these photos. The memorial is a beatiful piece of art. I cannot describe the overwhelming sense of peace at this place. You can truely feel the angels there, just as Dawn Anna stated at the groundbreaking. I get goosebumps as I write this ~ that is how powerful my memories of my visit there last fall are. It may be a while before I have these pages done, but I will share them when they are complete as I know that there are readers of my blog who will likely never get to experience the memorial in person.
So until next time...Happy Sunday~Hug those that you love just a little tighter today as we are never guarenteed another today with them.