Here are the pictures I promised of the LO's I did last weekend and a card I made for my Sister-in-Law for her birthday.
This one is of my Dad and Hunter (7years ago) telling secrets. I used the Cuttlebug to emboss the middle strip.
This one is of Shawn and a friend fishing. Shawn jumped into the lake after his fishing pole, I am that passionate about my scrapping too, so I completely understand! I used the Cricut AK on th e words fish and Tales.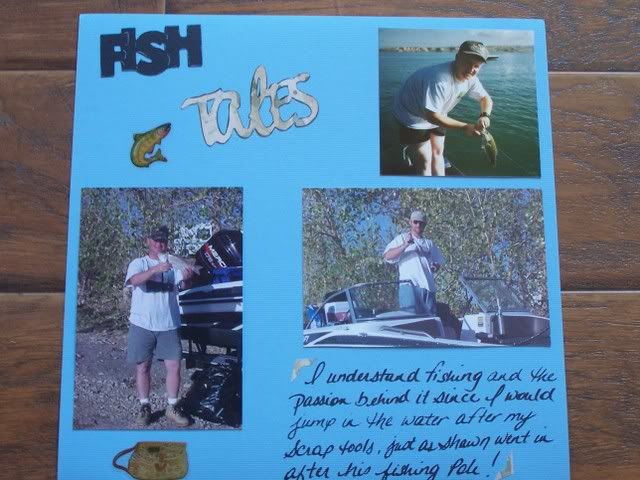 This is a favorite picture of my Mom and Dad dancing at a car show a couple of years ago. They were dancing to Cherish by the Association, which is their song.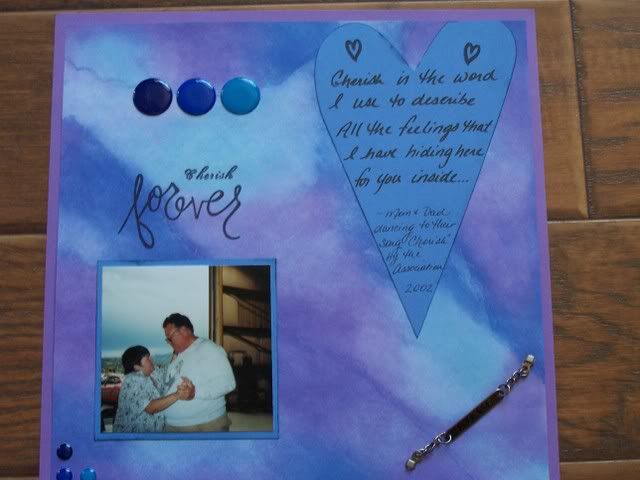 This one is about my Grandma. This sketch was drawn by a lady that lived in the same care home as my grandma shortly before she died. The style is quite similar to my Grandpa John's art style, which makes this even more cool.
This is a card for my Sister-in-law Connie who had a birthday yesterday. I haven't been able to get a hold of her to give it to her and I hope she doesn't see it here first. Hee, hee! The butterflies are heat embossed and the popped up one is a Cuttlebug butterfly.
Ok that's it for now, I got nothing else done today!