Here are the LO's I did at the crop this last weekend. I was hoping for at least 20 but considering how I was feeling I am pleased with these.
George for the star, HK Font for the lettering, HA for the flourish.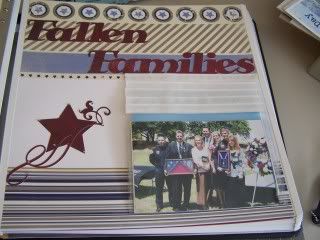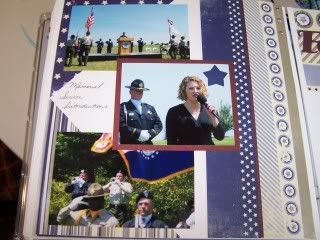 HA for the flourish and PS for the font.
HA flourish.
Chalked back ground...missing officer's table...can't say more. Rose from HEA.
Page 1
Close up of squares. I colored the orange and pink flowers by hand and the squares were cut and layerd 1/2", 3/4" and 1"...I guess this was inchie training.
page 2
Torn paper & computer journaling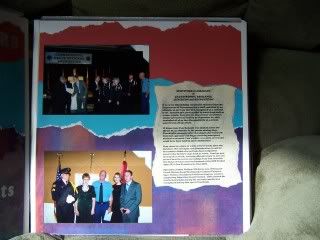 Torn paper and gasp...sticker letters.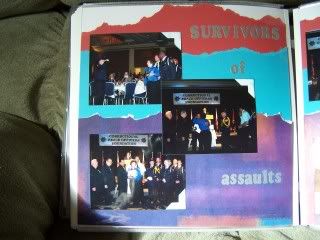 Calendar page with pins that I got this weekend. Die cut is from my Sister in Laws store.
Used 50 states and HK Font and the CM paper squares from the scrap pack we got at the crop. (THANKS!!!)
Sticker border that had to be done for crop bingo...but I like how it turned out.
Close up on the CB, ink and punch.
Pooh Font with CB embossing and inking on the punched out area.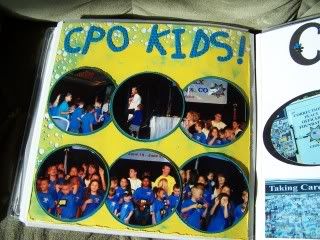 Handcuffs are a cut file from someone on the MB. I can't find her name right now, but will come back and give credit when I can. The flag is from 50 States.
Alphalicious and a flower punch.
Close up of the flowers. LOVE that punch! (THANKS!!!)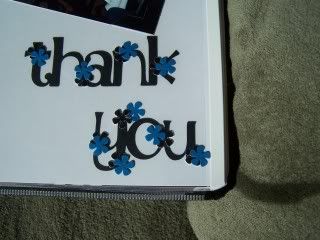 Mickey Font for the letters. Rub ons were kinda a joke...hee hee!