We have recently stimulated the economy and bought some furniture...I was able to get some shelves that were more functional in a scrap room!
Looking into the scrap room from the dining room. The living room is just to the right of this view and the kitchen is directly behind. My house has a really open floor plan so I had to make sure that everything flows well together.
This is a second view into the room.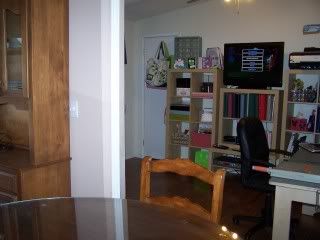 Another view looking in from the kitchen/dining/living room...
Cardstock storage and yummy massage chair~a girl must unwind! LOL! The closet in this room is mine too and there are shelves in it that are the complete width and depth of the closet but they are a mess and you don't get to see them~! LOL!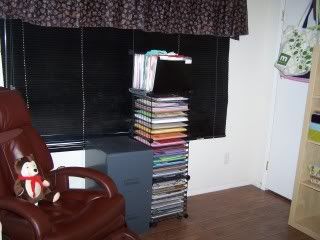 My scrap desk. It is a ScrapNCube set up and I LOVE it. My DH bought it for me a few years ago. The desk is 60" long and 26" deep! Each cubit houses it's own goodies and the cubit on the upper right houses my patterned paper. It is almost full but I can supposedly get 700+ pieces in there. In the others I store my metal embellies, buttons, ribbon, fibers, punches, embossing powders, stamps, inks, misc die cuts, Crop o dile, stickels and chalks. I store my ATG in the MM turntable now so the holder is an actual kleenex holder now and the paper trimmer is my one and only Craigslist find...a fairly local lady decided she liked her CM one better! $20 bucks! Hee hee!
E rack. The top shelf is reserved for my lappy when I am scrapping so that I can have it close but not taking up valuable desk space!
My large format Epson printer compliments of the Colorado Lottery!!! We won $200 on a scratch ticket and when I gave Shawn half he wanted his half put towards a good printer!!! Yippeee, we both won! This Expedit has small albums, Mommy's movies, magazines, Xyron, primas, skittles, and my Cuttlebug!
Middle Expedit has completed albums, video games and eletronics and of course a TV.
Another Expedit shelf with photo storage, cards, DCWV stacks, LO waiting for album homes, alchol inks, and embellies storage. I also have a tool caddy on the top which I store letters in
How my scrap room usually looks with Hunter playing video games!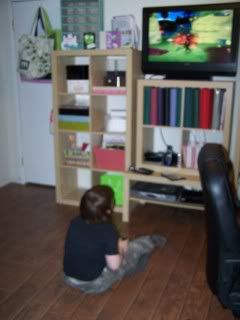 MOM!!!