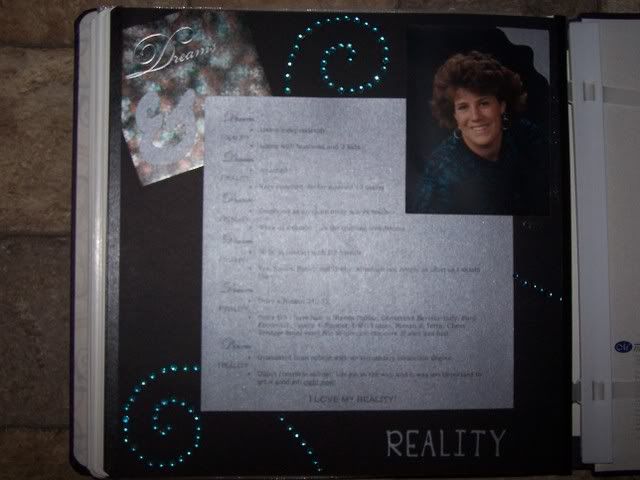 This LO is one that I did yesterday. It is of my HS graduation photo and the journaling comes from my HS book with a constrast to the reality of today. I really enjoyed doing this LO and thought it was the perfect way to display my senior photo.
Here is the journaling in a font easier to read on this board.

Dream
· Living independently
Reality
· Living with husband and 2 kids
Dream
· Attached
Reality
· Very attached. So far married 12 years!
Dream
· Employed as an elementary school teacher
Reality
· Work in a prison ~ as the training coordinator
Dream
· To be in contact with HS friends
Reality
· Yes, Karen, Renee and Becky. Although not nearly as often as I would like
Dream
· Drive a Nissan 240 SX
Reality
· Since HS I have had: a Nissan Pulsar, Cheverolet Beretta~Indy, Ford Escort GT, Toyota 4-Runner, GMC Yukon, Nissan X-Terra, Chevy Venture (mini-van)! Not to mention the cars Shawn has had
Dream
· Graduated from college with an elementary education degree
Reality
· Didn't complete college. Life got in the way and it was too important to get a good job right now!

I love my reality!