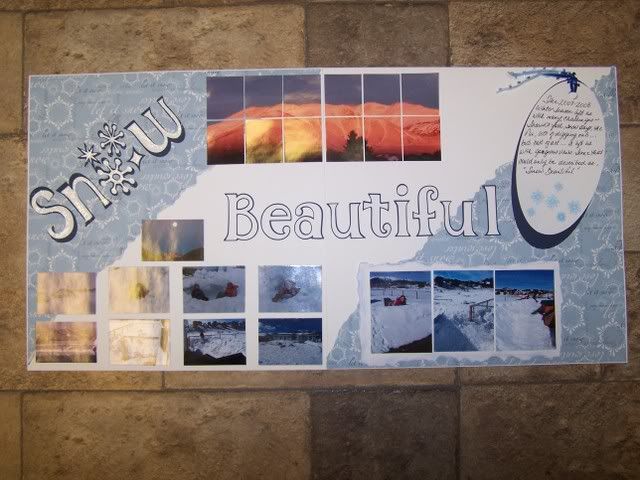 I am posting another snow LO, since it is snowing outside right now! UGH!!! Shawn and Shelby are getting better, and I have a little touch of the flu, but got started on Tamiflu and is seems to be mostly working. I made huge progress on a project at work this weekend. I am on call so I ended up going in to work to get some things done! Anyway~because I made prgress, I worked this LO that I have been fretting over for a week. I just couldn't get it to come together. I finally got an idea this morning and was able to get the LO to turn out just perfect!

There are 13 total picts on this LO All are from my house.
The Snow Beautiful is from Alphalicious short stack with the O in snow from AE. I turned the B upside down as I like that look better. I layered the lettes on shadows. The tag is also from AE. I used DS to do some stretching of the tag and the snow word. Snow is lightly Stickled with Star Dust.
The photo mat on page 2 is chalked on the edges and the tag has some fibers from my stash!
The journaling reads:
The 2007-2008 winter season left us with many challenges~Shawn's fall, snow days, the flu, lot's of digging out...but best of all it left us with gorgeous views. Some that could only be described as, "Snow Beautiful".